Please book direct, as your money stays in New Zealand, helping Kiwis who run hospitality businesses, and we are grateful.
SPECIAL OFFER
HAVEN SENT
In answer to the ongoing travel and infection concerns around Covid-19, we are pleased to offer a new service to our direct-booking guests looking for a haven for just four people (singles or two couples) for a safe and secure escape of three nights or more. Homestead Haven brings you exclusive occupancy of the Riverside Homestead with two spacious and comfortable private ensuite rooms, connected only by your river-view patio with its own external access to the lawn and riverside, with a contactless check-in and check-out if you wish.
From your patio, your two rooms have direct and exclusive same-level access to our private, generous, airy and lofty river-view guest lounge with its comfy corners, big bookshelf and grand piano.
Each guest room has internet access, satellite Freeview, Netflix access (account needed), a small fridge, Nespresso and a leather-top desk. Our full beverage list is available with service to the lounge by fully vaccinated and masked proprietors. This special package includes first-day breakfast supplies in your room fridge. To assure privacy, your deep-cleaned rooms will be serviced only after three nights, which is the minimum booking for this two-room package.
When the gates are secured at sunset, sip a drink, watch the alpacas roam down to the Waitangi River and gaze over the wide rural landscape beyond. We can provide gourmet cheese or more substantial platters to the river-view patio tables. Now, that's a Haven!
HAVEN BOOKINGS must made direct by phone (09 402 5432) or email bookings@thehomestead.co.nz
RATE: 3-nights, 2-rooms total $1500 incl GST. We have self-administered R.A.T. tests available at cost.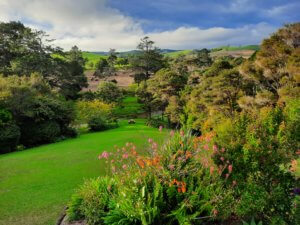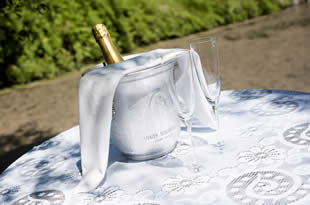 STANDARD RATES
Our junior suite rooms have separate entry, opening windows, small fridge, Nespresso, a seating area and leather-top desk, balcony and ensuite bathroom. The Meadow View Suite also has a dedicated tea and coffee-making nook with sink and counter.
Minimum stay 2 nights applies. Covid-19 alert levels may affect how we can look after you, so please ask. All rates for double or single occupancy. No additional guests possible but a nanny or driver's room may be available – please enquire.
Complimentary fruit bowl and daily buffet or basket breakfast included in full rate bookings, river-side platters by prior arrangement (optional). Rooms serviced on request only under Covid Red and Orange, but always offered after every third day. Always deep cleaned and sanitised between bookings. Minimum stay 2 nights. Please contact us direct for details. Room-only rates (no breakfast and no refunds) are also offered on request.
Book with this safe link:
OUR ROOMS
We are very personal, with just two architect-designed rooms. We are organic, quality-oriented, and involved and immersed in the happiness of our guests.
We offer privacy and value with heaps of space, and wine from our cellar.
All main beds are orthopaedic quality, and all pillows are feather and down unless non-allergenic requested. Cosy towelling bath robes are provided; natural toiletries are also complimentary. All rooms feature DVD/TV and have sound systems. A personal room fridge contains complimentary Homestead pure rainwater and and may be stocked with other optional supplies such as Champagne, beers and other wines by prior order – or at a whim!.
Full tariff includes balcony breakfast, in-room organic tea and Nespresso (organic/recyclable pods). Ironing boards are in every room.
All rooms are refreshed using chemical-free or ecolabel licensed sanitising products.
Wireless broadband is available in-room, in lounges and in parts of the grounds, subject to rural limitations.
Please note our family policy: while we stipulate a minimum age of 12 years, younger children may accompany guests when all rooms are reserved by the same party. Parents are warned that natural water hazards are part of our countryside location.
A minimum of 2 nights applies but some special deals may vary. Single occupancy rates are the same as double. Where a third or fourth person may be accommodated in a room, a charge of $120 per person per night will apply, irrespective of age.
Prepay special and room-only rates are usually NON REFUNDABLE and payment must be completed at the time of booking. Some packages are available only when booking DIRECT with the Homestead. Your travel company may offer other packages and rates.
BOOKING CONDITIONS
Full payment is required at least 14 days prior to arrival to confirm reservation.
If the booking is cancelled more than 30 days prior to arrival, a full refund will be made.
Cancellations in the period 30 days to 7 days from arrival will receive a 75% refund.
Bookings cancelled less than 7 full days before arrival will receive no refund.
For plans genuinely disrupted at any time due to Covid Red, a full and transferable credit will be held for application to future bookings, otherwise refunds may be made as above.